We have loads of National Trust places near here which is great as we definitely get our money's worth as members – yet the one we keep going back to is Polesden Lacey near Dorking; a large house (which I think we've been in once) and grounds, loads of grounds to wander around and explore. We were set for a sunny afternoon so I persuaded Shaun to leave his study for a few hours to make the most of this tiny window of nice (plus it's the Bank Holiday), and fortunately he agreed.
Interesting fact about Polesden Lacey : the Queen mum and King George VI stayed there for part of their honeymoon. So it's quite posh.
My favourite part is the tree tunnel which takes you close to the children's play area, however, today we explored some areas we've missed in the past. I had no idea there was a dog graveyard there – trying to explain that to toddlers was interesting… they had fun in the walled garden though.
Then there's chickens! I had no idea about these either, they were perched in the trees which excited the toddlers. Just down from there was a croquet lawn (cue the toddlers pulling up the poles or climbing over them…) until we found the rock garden and sat down for snacks.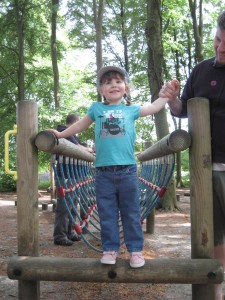 Post snack-time and we made it to the tree tunnel, then to the play area and on to the golf course (which is the clock and one hole you have to pot into), and finally the obligatory ice cream stop.
Of course, you give the toddlers something sugary, they go a bit crazy. So for the next twenty minutes we had H running in one direction, only stopping as there was a National Trust tent (I think she'd have run forever otherwise), and J running in the other direction back to the golf area (he's quick too and it was a good distance). Cue both sets of parents carrying the toddlers and distracting as much as possible until they'd forgotten what was going on.
On getting back in the car to come home, H was asleep within two minutes. On being put to bed at her usual time she's settled and is probably well on her way to deep sleep now. Result!